ICT Enabled Tools
---
ICT is a broad term. It stands for Information Communication Technology. ICT tools for teaching and learning cover everything from digital infrastructures such as printers, computers, laptops, tablets, etc., to software tools such as Edmodo,Google Class Room ,Google Meet etc. EMEA College faculty uses a variety of Information Communication Technology (ICT) enabled tools to support effective pedagogy.College provides the latest IT infrastructure to the teachers and students of the college to impart ICT enabled teaching and learning environment.The summary of ICT infrastructure and services provided by the college are as follow:
The college has been using various types of ICT tools to impart education. To enhance the skills and knowledge of the students, the college provides ICT Facilities in class Rooms and Seminar Halls, such as:
Laptop (On-demand)
LCD Projector
Internet-enabled Wi-Fi Facility
Audio-Video conference Facility

Classrooms with Projectors Seminar Hall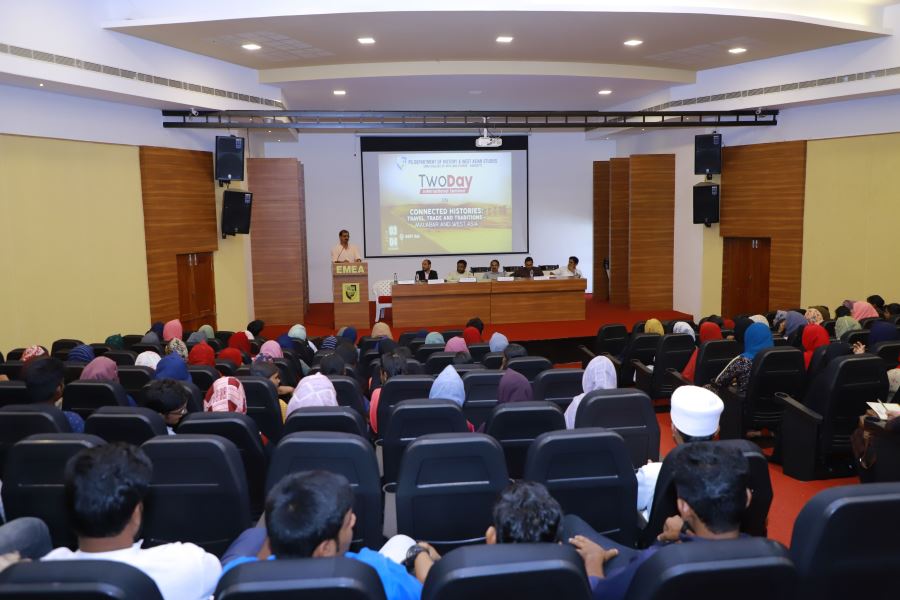 Audio Visual Theatre
The college provides computer labs with sufficient numbers of laptops and desktops connected with LAN using fast ethernet and internet connection. Besides this, the college provides a fully automated library, with a network of computers, printers, online journals, and efficient state-of-art Library software.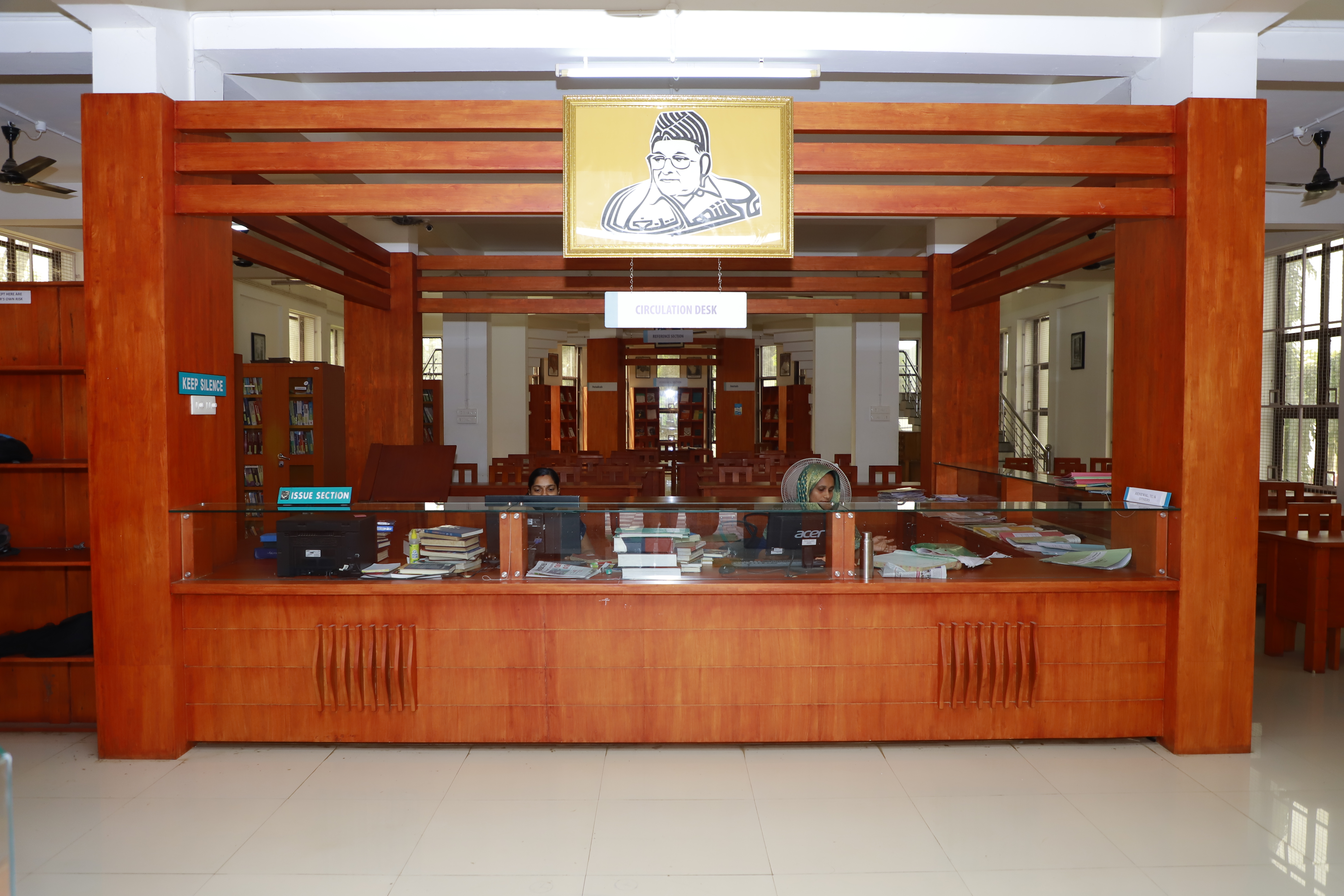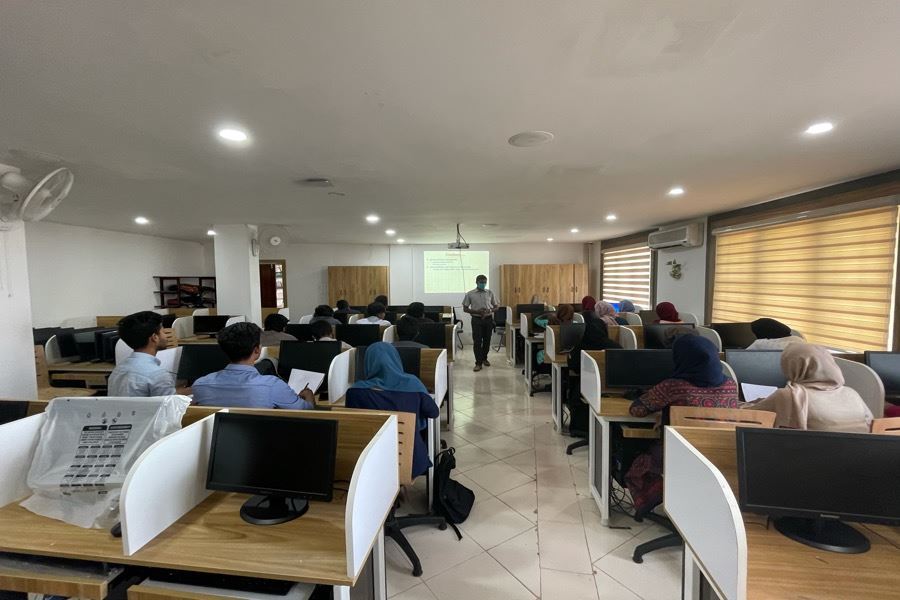 Library Computer Lab
The college campus has high-speed wi-fi-enabled internet services. To provide security to the students and staff, the campus has a network of CCTV cameras connected to internal servers.The college has installed CCTV Surveillance System by installing 25 cameras in different strategic locations.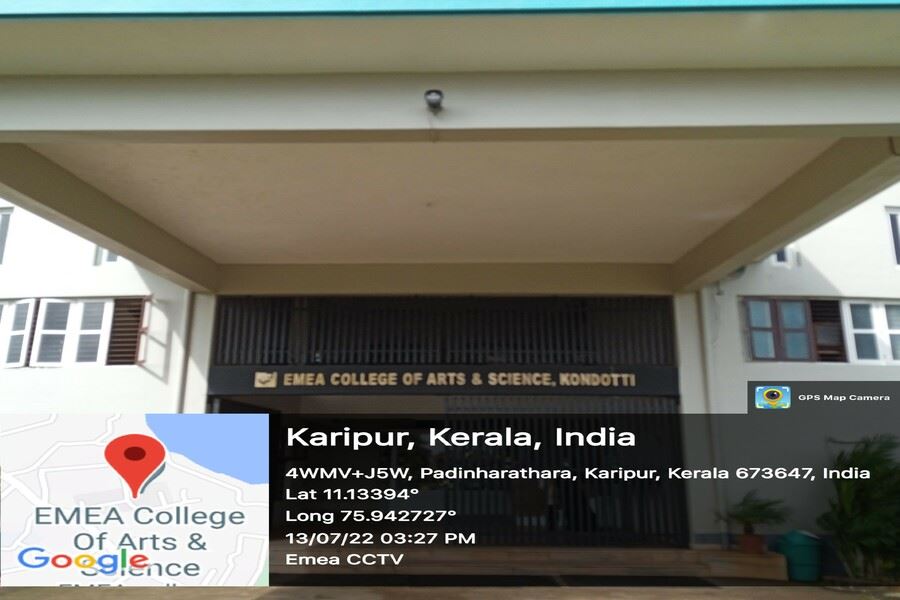 Server Room CCTV
The college provides individual email-id to students, faculty, and staff of the college. The college has been provided Email-Id based google classroom, google drive and google meet services to impart education. The College has been equipped with high-speed servers to provide administrative services, online attendance, and assignment services.
E- learning is an integral part of institute's teaching learning process. Daily e- learning content is shared with them in various forms for the student engagement and assessment.There are several ICT initiatives of the MHRD, UGC and its Inter University Centres (IUCs) - Information and Library Network (INFLIBNET) and Consortium for Educational Communication (CEC), in the form of digital platforms which can be accessed by the teachers and students in the college for broadening their horizon of learning. Following is the list of some of the 1CT initiatives along with their access links:
1. Learning Management System (Moodle): The college has taken institutional subscription of Learning Management System (Moodle) to facilitate e-teaching learning, particularly during this global pandemic. The main objective of the LMS is to host and track online learning. It is a virtual hub where the students can access their courses and learning material. It helps the remote learners to assess their courses and e-content at a central location.
2. ERP System: Enterprise Resource Planning, or otherwise known as ERP is an integrated software application, which firms use to manage and control their internal and external resources comprising financial resources, material, assets and human resources. It can be understood as a description of systems wherein innovative information technology is used to manage all functional areas in an organization.The college has purchased EMBASE Pro Suit Application software to ease and mince down the administration of our institution. It covers admission, fee collection, accounting, students' management, staff management, attendance entry, library book management, admin-parent communications, tutors- parent communications, emergency notifications, live interactions, certificate generations and many more.
3. SWAYAM: SWAYAM has been developed cooperatively by MHRD (Ministry of Human Resource Development) and AICTE (All India Council for Technical Education) with the help of Microsoft and is equipped for facilitating 2,000 courses. The platform offers free access to everyone and hosts courses from class 9 till post-graduation. It helps the students to access the courses taught by professors and faculty of centrally funded institutes like IITs, IIMs, IISERs, etc.
3. e-ShodhSindhu: It provides current as well as archival access to more than 15,000 core and peer-reviewed journals and a number of bibliographic, citation and factual databases in different disciplines from a large number of publishers and aggregators to its member institutions including centrally-funded technical institutions, universities and colleges.
5.Shodhganga: It is a digital repository platform of 2,60,000 Indian Electronic Theses and Dissertations for research students to deposit their Ph.D. theses and make it available to the entire scholarly community in open access.
6.National Digital Library: It is a digital repository of a vast amount of academic content in different formats and provides interface support for leading Indian languages for all academic levels including researchers and life-long learners, all disciplines, all popular form of access devices and differently-abled learners.
7.OPAC-Online Public Access Catalogue Online Public Access Catalogue (OPAC) or simply a Library Catalogue is a digital database of materials such as text files, e-books, journals, etc held by a library or group of libraries. Patrons can use the online library cataloguing software to find out any item under control of a library. It displays the query search results in an easy-to-understand format to enable patrons to find digital material quickly.
8. INFLIBNET: The INFLIBNET Centre is a major national programme initiated by the UGC in March 1991 as a project under the Inter-University Centre for Astronomy and Astrophysics (IUCAA). It became an independent Inter-University Centre in June 1996. INFLIBNET is involved in modernizing university libraries in India using the state-of-art technologies for the optimum utilisation of information. INFLIBNET is set out to be a major player in promoting scholarly communication among academicians and researchers in India.

EDMODO (Cloud-Based Learning Management System)
Edmodo is an educational technology company offering a communication, collaboration,and coaching platform to educational institution and teachers. The Edmodo network enables teachers to share content, distribute quizzes, assignments, create academic groups, distribute assignments, homework, schedule online tests track student performance and manage communication with students, colleagues, and parents.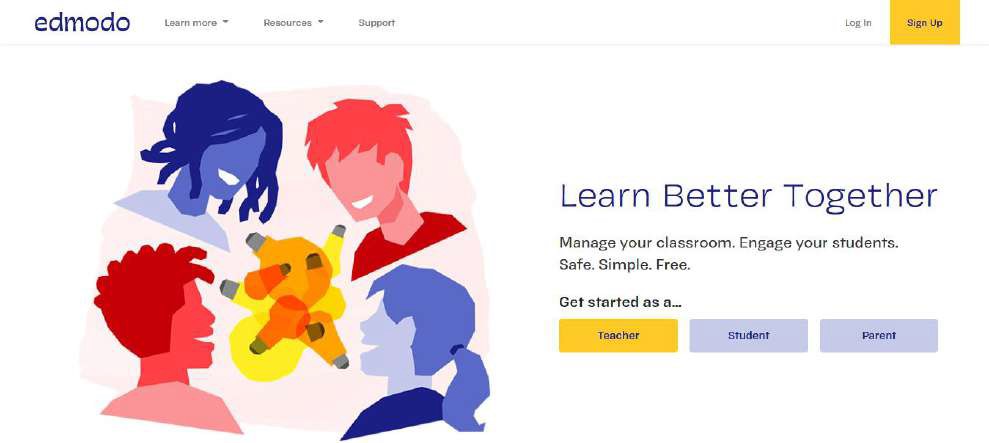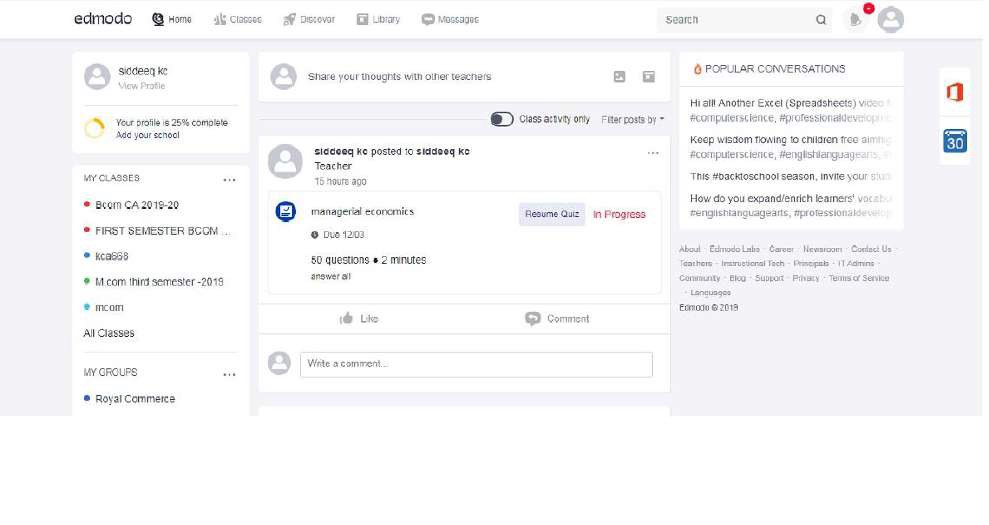 Google Class Rooms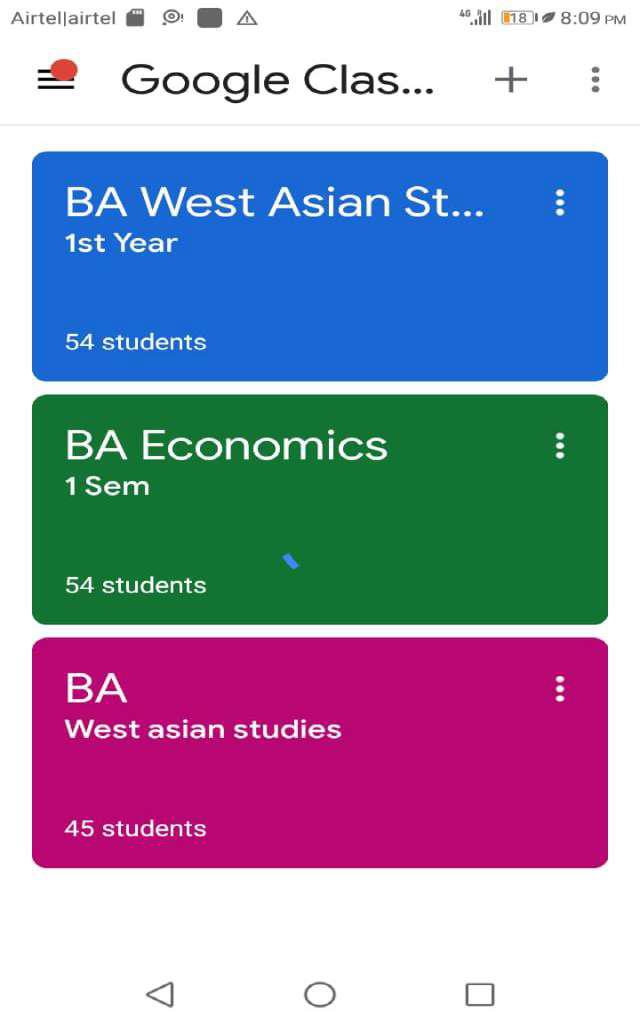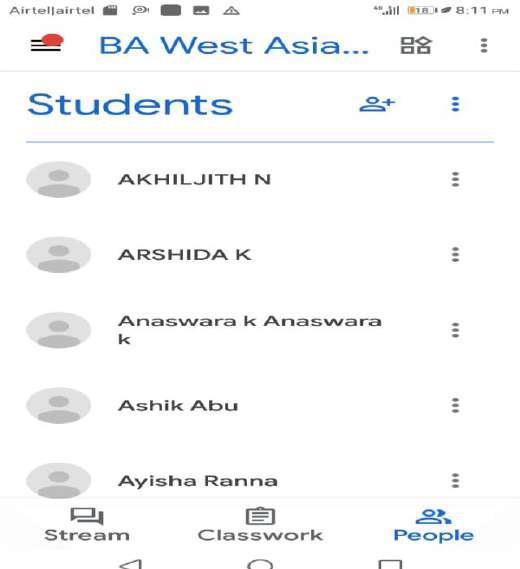 GOOGLE Meet